Leavers Hoodies
2022 Leavers Hoodies
If you're looking for super comfortable, high quality leavers hoodies at a great price then you've come to the right place. Schools are already ordering their 2022 leavers hoodies so students can boast their leavers status throughout the year.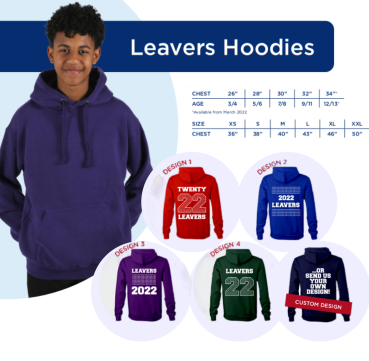 ORDERING YOUR 2022 LEAVERS HOODIES
Ordering your leavers hoodies with Forsters couldn't be easier. We've got a great selection of leavers designs available on our order form. If you've seen one which we don't have listed we can easily create it for you.
As one of the UK's leading suppliers of school uniforms we understand your needs. Our expert customer service team will be available to support you whilst you choose your perfect leavers hoodies.
If you would like your school logo adding to the front, that's not a problem
If your students want different colours, not a problem
Mix and match your leavers sizes, colours, and styles so everybody's happy
Simply download your order form, choose what you would like, and we will do the rest. All you need to do is approve the final design and we will have it delivered to you within a few weeks.
Pricing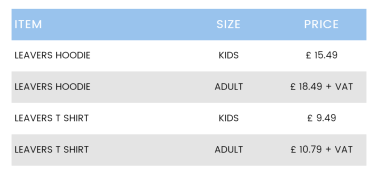 Why Our Leavers Hoodies?
Our leavers hoodies are ethically made, WRAP certified, super comfortable and extremely durable as they're made from a high-quality blend of 80% cotton and 20% polyester. The high cotton content means the hoodie is naturally hypoallergenic and it will keep you warm due to its insulative properties. The polyester has been added as it is an extremely strong fibre which increases the durability so you can wear the leavers hoodie every day without worrying about it wearing out.
On top of the quality of the garment we won't scrimp on the quality of your leaver's hoodies design. All our prints are double printed as standard for an unbeatable quality. We do all our embroidery and print in the UK and we only use non-toxic inks.
To help keep your leavers hoodies in the best possible condition, we have created 6 top tips that you can follow regarding caring for your garments. You can follow our garment care tips which will help maintain the high quality of your garments and allow your kids to get the most possible use from them.
What Else Can I Get With A Leavers Design?
If your students want to do something a little different to the traditional leavers hoodies then how about a leavers t-shirt. When you're filling out your leavers form just select the garment you would prefer.