About us and our services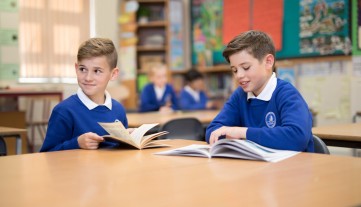 We understand that schools and parents require a uniform that looks smart from day one, stays smart all year and reflects the identity of the school. Forsters School Outfitters prides itself on keeping the colour of our garments consistent, ensuring every child can wear their school's colours with pride. We quality check our uniform thoroughly at every stage, to ensure that when your garments arrive they meet our high quality standards Our world-class design department works with new, and existing schools updating their logos, to ensure the threads chosen, match the school's logo exactly.
All our garments are made specifically for the schoolwear market which means they are durable yet soft and comfortable. Our "Comprehensive Quality Guarantee" provides evidence of the confidence we have in our quality standards.
We are the supplier of choice to over 50 Schools and Academies across the UK. Over the past 90 years, our serviceshave been tailored to the evolving needs of both schools and parents. To ease the burden on busy staff, we have a range of solutions, from no-admin to low-admin. Our customers can select if the parent orders through the school or direct from us and whether the order is sent either directly to the parents chosen address or to the school.
Our services
At Forsters School Outfitters we offer two types of uniform service, as a school you can choose one or both of these services. Our Direct to Parent (DTP) Service allows your parents to order your uniform online and have it delivered directly to their door whilst our Direct to School (DTS) Service allows your school to order. This service gives you the option to keep stock in school or order uniform as needed for you to sell to parents.
Direct to school uniform service
This service is commonly used by schools who like to keep stock in school so it can be sold at parent evenings and events. You can place your school order online, by phone, or email, which ever is most convenient for you. You can choose for it to arrive in school for you to distribute or use our packed per pupil service via your FREE dedicated website area.
Would you like more information on this service? Register here

Direct to parent uniform service
This is our most popular service with the majority of our schools now offering a delivery to parent option. It's so popular because it allows you to remove all of the admin associated with a school based uniform service. You simply choose your uniform garments and we'll set up your FREE dedicated website area for parents to order from. We then deliver to school or their chosen address.
Would you like more information on this Delivery to Parent school uniform service?
[img src="https://529x203/uploaded_files" alt="School Trends, School Uniform delivered direct to parents" width="600" height="230" >